Welcome to BughouseMaster.com!
Congratulations to
BughouseMaster
Neph Diaz for winning the
2017 HOUSTON Lone Star Open – Class B Section, with an undefeated score of 4.5/5 including a *shocking* last round 7-MOVE CHECKMATE!
~~ CLICK TO VIEW FINAL STANDINGS ~~
This is the official website of BughouseMaster Neph Diaz. Here you will find information about his interests, achievements, as well as high-quality chess & trumpet lessons offered by one of the best Bughouse players in the world who was recently featured in "Chess Life," the official magazine of the U.S. Chess Federation.
See below for the direct link to the interview.
Neph is available for hire to play the trumpet at your wedding, anniversary, or any other special occasion in your life. Enhance your event and make it even more memorable with the sweet sounds of his trumpet.
Be sure to visit this site frequently as it will always be updated with the most current information regarding Neph. Thank you for your interest in his site & be sure to sign the guestbook!
~~ Click to View ~~
NEPH'S EXCLUSIVE BUGHOUSE INTERVIEW
Chess & Trumpet Lessons
Featured Videos
Chess Achievements
BughouseMaster T-Shirts Now on Sale!
Contact Neph to get your very own commemorative t-shirt available in powerful royal blue or pure white and help spread the word about BughouseMaster.com!
$19.95 for S-M –> $24.95 for L-XL.
Recent Updates
-Dec 2019: Coach Neph finishes the decade strong at North American Blitz Championship with 7/10!
-June 16, 2017: Please watch THIS VIDEO and support this amazing woman!
-April 2, 2017: 2017 HOUSTON Lone Star Open – U1800 CHAMPION -4.5/5!
Click here for Full Results
Chess Student Rohan Dauluri wins K-8 Lone Star SCHOLASTIC Tournament 4-0!
Click here for Full Results
-February 4, 2017: CONGRATULATIONS to Chess student, Rohan Dauluri, for winning his 3rd STRAIGHT Chess tournament! Click here for Full Results
-December 27, 2015: Performed 3 Trumpet solo's – Listen to them on the Trumpet tab
-November 13-15, 2015: U.S. Class Championships – Class B CHAMPION!
Click here for Full Results
-July 5, 2015: Performed the U.S. National Anthem for Independence Day! Watch it here –>
-March 24, 2015: Updated Chess tab with December 2014 strong performance at North American Open and most recent 2nd place finish at 2015 Lone Star Open!
-March 17, 2015: Added a video TRUMPETING "It is Well With My Soul"
-March 8, 2014: Added a video TRUMPETING Sunday Service.
-January 7, 2014: Updated Chess tab with November & December 2013 chess achievements!
-October 16, 2013: Launched Bug Board on BughouseMaster.com
-July 22, 2013: $10,000 Houston Open – U1800 Winner with 4.5/5!
-June 6, 2013: National Open G/10 Championship – U1700 Winner! Also won against a very strong Grand Master & one of Top 10 strongest players in the United States!
-Feb 24, 2013: Updated Publications tab by including Neph's exclusive interview, article, and results from 2013 U.S. Team East Bughouse Championship.
-Feb 17-18 2013: 2013 U.S. Team East Bughouse Champion! See the power-packed action of the perfect 5-0 finish on the Bughouse tab!
-Jan 2013: Posted interview with editor of U.S. Chess Online here
- Jan 2013: Put Neph's TRANCE dance on his Facebook.
-July 2012: 1st Place undefeated 5-0 finish in World Open Quick Chess Championship with a performance of a chess Master (> 2200)!
See Chess tab to see the final crosstable.
-June 2012: Finished 5/6 in National Open U1800 section with a performance rating of a chess Expert (> 2000)!
-May 18, 2012: ~~ WEBSITE OFFICIALLY OVER 1OO,OOO HITS!! ~~
To celebrate this milestone (and as per my facebook status), the first 10 non-students who contact me & mention this will have a Bughouse/Chess/Trumpet lesson for 50% off! But dont be slow, this offer is SURE to end soon so to take advantage of this special promotion, be sure to contact Neph today!
- Apr 29, 2012: Displayed Neph's new car magnet image.
- Mar 12, 2012: Watch Neph playing the great classic, "Cant Get Enough of Your Love" with one of the best smooth R&B and jazz bands in the southern United States' Gulf Coast!
- Feb 2, 2012: Updated business card image to reflect Neph's current business card.
- Dec 28, 2011: Uploaded several songs from Christmas Eve & Day performances. See them all on Neph's
channel!
- Dec 10, 2011: Performed both U.S. & Philippine National Anthems @ annual filipino Christmas party. See both vids and more on
.
- Nov 27, 2011: Scroll down to see Neph's Housedancing video!
- Oct 24, 2011: Check the Gallery page to view photos for some of Neph's chess and trumpet students. You can be the next success story!
- July 21, 2011: Guest Trumpeter for the talented Glenn Parker Band.
Watch Neph playing along with them to "Love's Theme" by clicking here —>  
- Chess Tab – Strong performances @ Atlantic City International, (12/21/10), North American Open (1/16/11), 1st place at
South Houston Open, and finished 4.5/6 @ the 2011 National Open (Updated: 6/13/11)
INTERNATIONAL NEWS
Neph Diaz's trumpeting has now officially been seen and showcased by MILLIONS of people worldwide after he beat out nearly 1000 talented musicians! Click the image to watch Neph featured on NATIONAL TV taking part in the Philippines #1 game show, "Willing Willie" on February 8, 2011.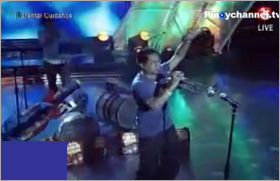 Chess & Trumpet Lessons
Neph provides private or group Chess and Trumpet lessons in Houston for those interested in greatly improving their skills. He is also available to give simultaneous chess exhibitions, where Neph plays many opponents at once. Whether you are a beginner or have been playing chess or trumpet for awhile, you will definitely benefit from Neph's world class experience and expertise.
For more info on his many credentials, visit the Chess and Trumpet page.
*** Check the Chess & Trumpet lesson info tabs for current SPECIALS ***
*** NEW!! Half-hour Chess sessions now available ***